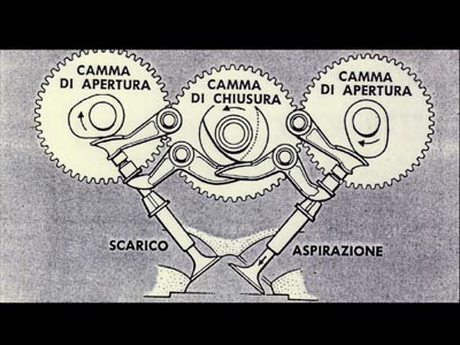 Desmodromika
U enciklopediji će se u daljnim tekstovima dosta spominjati riječ Desmodromika i riječ Desmo pa je potrebno objasniti o čemu se radi i koje područje zahvaćaju ti pojmovi.
DESMODROMIKA (čita se dezmodromika) je složenica koja dolazi, odnosno složena je od dvije grčke riječi Desmos (vezano) i Dromos (vožnja). Dakle riječ je o vezanoj vožnji. Zašto??
Zato jer se radi o sustavu zatvaranja i otvaranja ventila u glavi cilindra koji te radnje (otvaranje i zatvaranje) ne obavljaju na klasičan način kao kod ostalih motora putem poluosovina i lanaca koji pokreću ventile, nego se ovdje radi o sistemu kojeg je uveo u Ducati Fabio Tglioni glavni inžinjer Ducatija (1954.g-1989.g) a davno prije je taj sistem koristio Mercedes, no Dezmodromika nigdje nije zaživjela i našla tako široku primjenu kao kod Ducati motocikala.
Taj sistem otvara i zatvara ventile putem zupčanika, od kojih 2 otvaraju ventile a jedan ih zatvara te je za pokretanje tih zupčanika zadužen remen a ne lanac kao kod klasičnih motocikla.
Posljedica toga je preciznije ubrizgavanje smjese goriva u cilindar te time i bolje sagorjevanje.
Na shemi se vide 3 zupčanika od kojih, kranji lijevi i kranji desni, imaju ulogu otvaranja ventila a srednji zupčanik ih zatvara i sve se to odvija putem konusa kao kod klackalica.
Baš zbog toga efekta vezanosti zupčanika i klackanja dobivamo vezanu vožnju.
Kada se radi o konstrukcijskom dizajnu glave cilindra sa npr. dva ventila po cilindru onda se taj tip pogonskog agregata naziva Desmodue, ako posjeduje četiri ventila, naziva se Desmoquattro, itd.
Postoji još jedna prednost kod Dezmodromike u odnosu na klasični sustav ventila a ta je da, desmodromski sustav pošto je mehanički i kod njega nema opruga koje vraćaju ventile u pravilan položaj, nema niti mogućnosti da dođe efekta titraja ventila koji zatim uzrokuje nepravilnije ubrizgavanje smjese zraka i benzina u cilindar i time nepravilniji rad cijelog pogonskog agregata.
Dezmodromika je kod Ducati motocikala najzaslužnija za jedinstven zvuk koji proizvode njihovi pogonski agregati i nešto po čemu se ti motocikli uvelike razlikuju od svih ostalih motocikala te je Dezmodromika zaslužna i za veliki dio karizme koju posjeduje svaki Ducati motocikl.
Shematski prikaz klackalica i ventila. Klackalice mehanički otvaraju i zatvaraju ventile koji su spojeni na njih a poluosovina u kombinaciji sa zupčanicim kontrolira odnosno pokreće klackalice koje zatim otvaraju i zatvaraju ventile a da pritom nema nikakvih titraja u radu desmodromske mehanike zbog izostanka klasičnih federa (opruga) koje kod drugih pogonskih agregata vrše funkciju vračanja ventila u početni položaj. (Slika 1)
Materijali koji se koriste za izradu Dezmodromskog sistema moraju biti otporni na habanje i vrlo izdržljivi pa se koriste razne legure metala na pojedinim djelovima kao što se vidi na slici.
To u konačnici poskupljuje proizvod jer materijali koji moraju biti izdržljiviji i kvalitetniji imaju svoju cijenu koja nažalost nije mala pa je i to jedan od razloga više cijene kod Ducati proizvoda. (Slika 2)
DESMODROMIC/DESMO
In this Ducati Encyclopedia there will be substantial usage of the word Desmodromic and Desmo, therefore it is necessary to to define this terminology.
The word itself comes from the Greek words desmos translated as "bond" or "knot" and dromos "track" or "way". Why?
Desmodromic system refers to an engine valve opening and closing by a cam and leverage system. Desmodromic valve is a reciprocating engine valve that is positively closed by a cam and leverage system, rather than by a more conventional spring.
The valves in a typical four-stroke engine allow the air/fuel mixture into the cylinder at the beginning of the cycle and exhaust gases to be expelled at the end of the cycle. In a conventional four-stroke engine valves are opened by a cam and closed by return spring. An engine using desmodromic valves has two cams and two actuators, each for positive opening and closing without a return spring.
This system was introduced into Ducati by Fabio Taglioni, chief engineer from 1954. to 1989. and about that time the company Mecedes-Benz was using the same system in Formula One production but the Mercedes stoped using Desmodromic technology very quickly because it was expensive and hard to produce at the time.
Desmodromic system didnt manage to take roots in any auto-moto production except in a Ducati company, and since the time it was introduced into the Ducati production it is constantly evolving.
Desmodromic system basically means that the valve movement is controled mechanically with no springs an regular camshafts. The Desmodromic works on a seesaw principle.
In modern engines, valve spring failure at high RPM has been mostly remedied. The main benefit of the desmodromic system is the prevention of valve float at high rpm. It has the primary disadvantages of complexity, since there are more components, and lack of understanding, which prevents people from straying from the well-known conventional valvetrain with its valve springs.
In traditional sprung-valve actuation, as engine speed increases, the momentum of the valve will eventually overcome the spring's ability to close it completely before the piston reaches TDC (Top Dead Centre).
This can lead to several problems. First, and most damaging, the piston collides with the valve and both are destroyed. Second, the valve does not completely return to its seat before combustion begins. This allows combustion gases to escape prematurely, leading to a reduction in cylinder pressure which causes a major decrease in engine performance.
This can also overheat the valve, possibly warping it and leading to catastrophic failure. In sprung-valve engines the traditional remedy for valve float is to stiffen the springs. This increases the seat pressure of the valve (the static pressure that holds the valve closed).
This is beneficial at higher engine speeds because of a reduction in the aforementioned valve float. The drawback is that the engine has to work harder to open the valve at all engine speeds. The higher spring pressure causes greater friction (hence temperature and wear) in the valvetrain.
The desmodromic system avoids this problem, because it does not have to overcome the static energy of the spring. It must work against the momentum of the valve opening and closing, and that force still depends on the effective mass of the moving parts.
Desmodromic system because above mentioned, offers more efficient combustion and less fuel consumption, so all Ducati motorcycles have better fuel economy than the other motorycles there on the road.
Ducati air-cooled engines with two valves per cylinder are called Desmodue engines, and liquid-cooled engines with four valves per cylinder are called Desmoquattro engines.
The materials that are used (alloys) in desmodromic production have to be very resistant and durable, so the desmodromic parts require alloys that are very expensive to produce and handle.
In the end that is one of the reasons why Ducati motorcycles are coming at the higher cost.
But nevertheless, Desmodromic system improves Ducati motorcycles and gives them unique sound and performance with lots of charisma, which is a big part of the Ducati tradition.