Objavljeno: 19.11.2020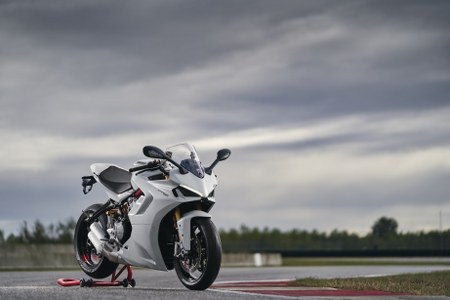 The SuperSport 950 is the right bike to bring sporty riding into everyday life, without having to compromise, especially in terms of comfort. For 2021 the model has been revised in design, enriched with electronic equipment and gear, as well as becoming compliant with the Euro 5 anti-pollution legislation.
The aesthetic link between SuperSport 950 and Panigale V4 is now even stronger. The front view is defined by the new full-LED headlight supported by two fins and flanked by two air intakes that widen the view. The DRL clearly recalls the sharp luminous signature of the Panigale V4 and is made thanks to a refined opal that diffuses the light evenly.
The fairings have been redesigned to accentuate the sportiness of the bike and the fluidity of the shapes. The air vents coming from the water radiator are inspired by the double extractor of the Panigale V4 models.
The genetic makeup of the SuperSport 950 is that of a true sports bike with single-sided swingarm, a trellis frame fixed to the engine that acts as a stressed element to reduce weight and bulk, ergonomics with raised handlebars for greater control even with the passenger, seat revised to maximize rider comfort through greater longitudinal usability, multi-adjustable suspension, three-spoke "Y" aluminium wheels and Pirelli Diablo Rosso 3 tyres, radial master cylinders for brake and clutch and high-performance Brembo braking system with double 320 mm disc for a dry weight of 184 kg.
Electronics is one of the areas most affected by the development of the new SuperSport 950, equipped with electronic controls based on information from Bosch's 6-axis inertial platform, capable of instantly detecting roll, yaw and pitch angle of the motorcycle in the space. The electronic package consists of Cornering ABS, Traction Control, Wheelie Control and Electronic Shifting. The adjustment of the electronic settings, as well as the Riding Modes (Sport, Touring, Urban) is done through the menu of the new 4.3'' full-TFT display with graphics and interface inspired by that of the Panigale family.
The SuperSport 950 is available in red and, for those who want a more refined chassis, the S version is available in "Ducati Red" and "Arctic White Silk". The SuperSport 950 S is equipped with fully adjustable Öhlins suspension and passenger seat cover. Both will be available in Ducati dealers from February 2021. The model is also available in a depowered version.