Objavljeno: 05.07.2017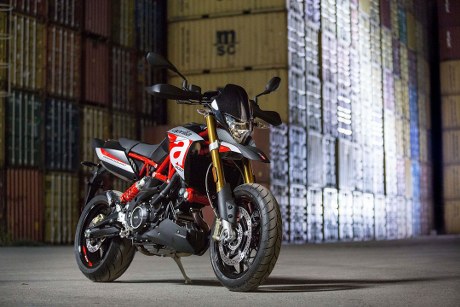 The supermotard from Aprilia evolves with the sole objective of providing maximum riding fun.
Dorsoduro 900 is born out of Aprilia's solid tradition in this motorcycle segment and it is a true thrill generator.
A revamped twin-cylinder with 90 nm of torque combined with bar-setting chassis architecture enhances its distinctive characteristic as a fun bike.
Full multimap ride-by-wire, traction control and abs round out a technical package par excellence
Aprilia Dorsoduro is the fun bike par excellence.
Born out of an ingenious intuition by Aprilia, it was built with the sole objective of providing the most possible road riding fun, drawing from the best characteristics of sport bikes and supermotards.
Maximum power now peaks at 95.2HP at 8,750rpm, but more important is the maximum torque value that goes from 82Nm at 4,500rpm on the 750 cc V-twin to 90Nm at 6,500rpm on the new 900 cc V-twin, a value that is truly at the top of its category.
Electronic engine management is now handled by the new and more powerful Marelli 7SM ECU that dialogues with the new full Ride-by-wire electronic accelerator system, completely built into the throttle grip.
This system allows even more accurate management of the fuel/air mixture and the injection throttle valve opening based on numerous parameters including engine speed, gearbox position, air flow (in quantity and speed), throttle grip and temperature, with great benefits in terms of smooth riding without opening/closing jerks, containment of harmful emissions and fuel consumption.
The system also allows a weight reduction of 550 grams compared to the previous Ride-by-wire that equipped the Dorsoduro 750.
The Dorsoduro 900 also introduces a new Aprilia traction control system with sensitivity adjustable to three levels (it can also be disabled) to limit rear wheel spin by acting on ignition and the injection throttle valves.
The Dorsoduro 900's Aprilia Traction Control system is combined with a Continental two-channel ABS system that can also be disabled, with developed calibration in order not to take anything away from the sporty ride.
On the Dorsoduro 900 a new Kayaba fork makes its début (combined with forged aluminium steering yoke plates), 450 grams lighter, adjustable in hydraulic rebound damping and spring preload and better capable of withstanding the stress of sport riding and absorbing bumps on the road surface, providing control in aggressive riding and greater comfort for those more relaxed rides.
The Dorsoduro 900's top shelf chassis structure is completed by a sport-derived braking system.
Front end relies on radial 4-piston callipers and a pair of 320 mm steel floating discs, lightweight and capable of guaranteeing reduced braking distances and excellent modulability.
The 240 mm rear disc is gripped by a single-piston calliper.
Both the front and rear systems have metal braided brake lines derived from the aeronautic sector, which eliminate the annoying buffering effect of conventional lines and guarantee precision and resistance to force.
More on: