Objavljeno: 29.05.2021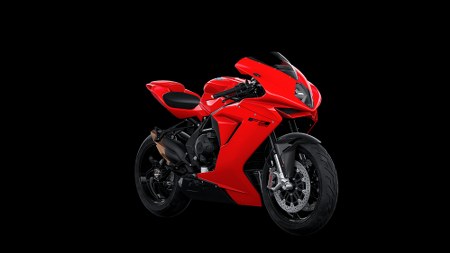 The F3 is the newest member of the ROSSO line.
The all-in-one fairing, clip-on handlebars, and undeniable MV Agusta character, in a more accessible package.
The new 2021 F3 adds that extra something to the ROSSO range. The ultimate in MV Agusta sports attitude has never been so accessible.
With maximum declared power of 147 HP, the MV Agusta three-cylinder is still one of the most powerful in the category.
The meticulous work to refine the 2021 model – Euro5 homologated of course – has seen MV Agusta technicians further reduce internal friction by using a DLC treatment for the new buckets and new materials for the valve guides.
While the valves are still titanium, the main bearings, rods and countershaft are new, redesigned to reduce friction and further improve reliability.
The exhaust system has been completely overhauled, from manifold to silencer, with the aim of improving delivery to fill out the torque and power curves at all speeds.
All without compromising the classic and unmistakable sound of the MV Agusta three-piston.
The injectors are also new, now able to handle an additional 0.5 bar of injection pressure.
The ECU firmware is updated, as are the engine management logics and control algorithms, which make for more precise and refined throttle management.
To improve cooling, a new bi-directional flow radiator is used for a 5% boost in efficiency.
The new IMU inertial platform, designed and developed in Italy by Milan firm e-Novia exclusively for MV Agusta, recognizes the position of the bike, for swift management of all controls based on the lean angle.
The ABS, now developed by Continental, comes complete with cornering function while the TC traction control can intervene more precisely by considering the bike's lean angle.
The IMU also means that the updated FLC (front lift control) can manage a controlled wheelie rather than prevent it altogether.
All this is controlled via a connected 5.5" TFT display that can communicate with the MV Ride App.
This app (for IOS and Android) not only allows trip recording and sharing on the main social media platforms, but it also offers the ability to customize every aspect of the bike (including engine settings), directly from a smartphone.
Thanks to the mirroring function, the rider now has navigation with turn-by-turn directions in addition to recording and sharing itineraries.