Objavljeno: 03.08.2016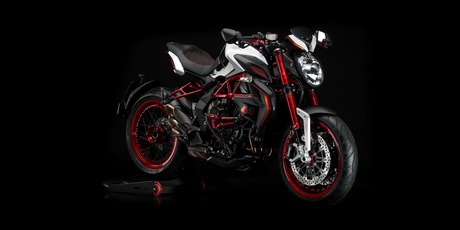 Lewis Hamilton and the Dragster RR have much in common.
They are both radical and extreme as regards style, are obsessive about detail, exuberant, bold and fear no rivals.
They share the same winning nature and desire for the absolute.
Together, they form an irresistible force which, summed up in just a few letters, will become legendary: Dragster RR LH 44.
The intrinsic value of a hand-built Dragster RR featuring special parts and finishes will now be even higher as a collector's item.
Never before has an F1 champion participated directly in the creation of a new motorbike, and the fact that it was an MV Agusta speaks volumes.
Lewis Hamilton was in very close contact with Castiglioni Research Centre for several months as they chose details, finishes and very exclusive accessories.
The graphics are a good example: the pearl white colour scheme and panther logo are taken from his helmet, while 44 is his race number, which decorates the front and side of the bike, not to mention the ignition key.
The bike features countless examples of true craftsmanship, ranging from the Alcantara quilt pattern saddle to numerous parts made from Ergal (brake lever, handlebars, fuel filler
cap, brake pump cover) with a special anodised red finish on the logos, frame, footpegs and spectacular spoked wheels.
Other features of the Dragster RR LH44 include adjustable clip-on bars finished in matt black like the side stand, frame and footpeg plates.
Like an F1 car, most of the bodywork on the LH44 is made from carbon fibre with a matt 3K finish. This highly expensive, exotic material was used to make the front and rear mudguards, the screen, air box and side covers, exhaust heat shields, gear box and swingarm covers and sprocket guard.
The similarities with F1 extend to the front of the bike, which is dominated by the race number 44 (incorporated into the limited edition ID plate on the 244 bikes) as well as the panther and Hamilton's signature.
In detail, the main features of MV Agusta Dragster RR LH 44:
• In-line three-cylinder engine, 798 cc
• Bore 79.0 mm, stroke 54.3 mm
• Maximum power 140 HP-EC (103 kW) at 13,100 rpm
• Maximum torque 86 Nm at 10,100 rpm
• Rev limiter at 13,200 rpm
• Dry weight 168 kg
• Power-to-weight ratio 1.19 kg/HP
• Tyres Pirelli DIABLO Rosso II 120/70 - ZR 17 (front) and 200/50 – ZR 17 (rear)