Objavljeno: 06.02.2015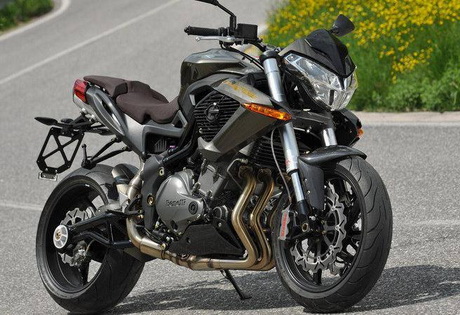 Benelli, the oldest Italian motorcycle manufacturer producing from 1911, before the antibiotics and high tensile steel were invented. Founder of Benelli is a lady Teresa Benelli, Pesaro, Italy.
After losing her husband, the widow Teresa Benelli invested all of the family capital into the business in the hope that it would offer stable work for her six sons: Giuseppe, Giovanni, Francesco, Filippo, Domenico and Antonio "Tonino".
She also sent Giuseppe and Giovanni to study Engineering in Switzerland.
Initially the business had 6 employees in addition to the 5 brothers working, Tonino didn't work because he was too young.
In the beginning, it was just the Benelli Garage, which repaired bicycles and motorcycles.
In 1920 the company built its first complete engine in-house, a single-cylinder two-stroke 75 cc model, immediately adapted to a bicycle frame.
A year later in 1921, Benelli built its first motorcycle, using their own engine which had by then become a 98 cc model.
World War II was near, the Benelli company debuted their four-cylinder supercharged 250cc racing bike.
This was intended to compete in the 1940 season, building on Benelli's success in the 1939 Isle of Man TT Lightweight 250 cc race.
With the start of the war, the Benelli Four was limited to competition in a handful of Italian domestic races.
Wartime destruction caused Benelli to remain out of production until 1949. Unsold war motorcycles to be used by the Italian army were adapted to become civil motorcycles and generate income to restart operations.
In 1969, Benelli introduced the Benelli Tornado 650, a vertical twin designed primarily for sale in Great Britain and the US.
The Tornado earned a reputation for reliability and high performance, despite its somewhat hefty weight at 220 kg.
Benelli claimed at the time of launch that the Tornado was capable of 57 hp at 7,400rpm for a top speed of 117 mph.
The Tornado (later the Tornado S) was discontinued after 1974, when Benelli introduced a series of "multis" intended to compete with Japanese triples and fours.
In this 104 years old tradition of production, Benelli always had the most extravagant and beautiful bikes, but they didnt manage to make it high quality product that would be available to every motorcycle enthusiast.
The reason why, maybe lies in the fact that the Benelli company always created exclusive motorcycles that required high production costs.
Benelli is now part of motor Group Qianjiang, a corporation in Wenling, southeast China. Benelli Q.J. is located in Pesaro, with the same workforce in the same premises as previous proprietor Benelli S.p.A.