Objavljeno: 10.02.2022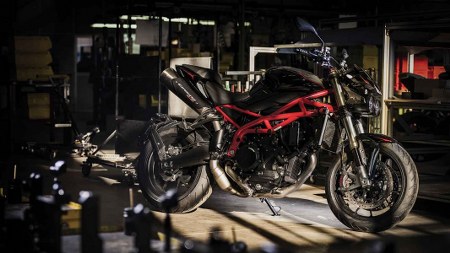 While its look has remained true to itself, its essence has changed completely. All to give the Corsaro ZZ rider a thrilling experience, fast and sporty yet precise and safe. Everything is in the hands of the rider, starting from the ability to disable ABS at the flick of a switch.
The Bialbero 1200 CorsaCorta remains at the centre of everything, but the famous twin-cylinder motorcycle is now enhanced with dual channel removeable ABS, electronic gears, and a new engine management system.
The chassis has also been completely renewed, from the new dimensions of the trellis frame to the fully adjustable suspension.
The front braking system uses single block 4-piston radial mounted calipers with a double 320 mm floating disc, while for performance and durability, the aluminum-forged rims are fitted with Pirelli dual compound tyres.
Designed following the specifications requested by Moto Morini for the Corsaro ZZ, the new suspension kits were built by Mupo.
The fork legs machined from a solid block have adjustable compression, rebound damping and preload settings which allow for 135 mm of wheel travel, to combine high-speed stability with comfort for a carefree ride.
Even the shock absorber can be controlled at will in terms of compression, rebound damping, length, and remote hydraulic preload.
The braking system with removable ABS relies on four-piston single block radial mount calipers, a double floating disc with 320 mm diameter and a 16/19 semi-radial pump, all designed by Brembo; while the rear braking system uses a specifically designed two-piston caliper with 220 mm disc.
Last but not least, the dual-compound Pirelli Diablo Rosso III tyres provide maximum grip even during braking.
1,187 cc, four-valve, liquid-cooled, cylinder blocks with crankcase, dual camshaft, aluminum alloy heads with 10% silicon: the Bialbero 1200 CorsaCorta brings together some typical traits of Italian engines with innovative ideas.
Such as the mixed solution chosen for the power supply, with the camshafts driven by two chains in opposition moved by a common intermediate shaft that runs through the V of the cylinders.
The angle between the cylinders makes the CorsaCorta perfectly balanced, meaning that countershafts are not needed, with a consequent reduction in inertia, allowing high rotation speeds to be reached. Moreover, the exceptional 107 mm bore allows for the use of sufficiently large valves to give free rein to the high-revving potential of the twin-cylinders.
When ridden, in fact, the Bialbero 1200 CorsaCorta demonstrates a solid and constant power supply right up to top speed, unlike any other twin-cylinder that suffers at higher revs.
Its character is unique, providing just the right amount of power to enjoy every ride, tackling any corner and putting to work the excellent chassis.