Objavljeno: 08.11.2016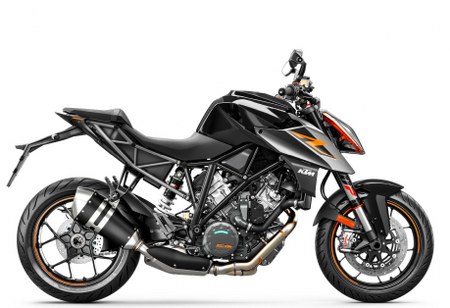 What is new on the 2017 KTM Super Duke 1290 R?
NEW SIDE FAIRINGS AND AIR INTAKES
It was essential that the increased performance of this second generation is visible at the very first glance.
Therefore, the side fairings are extended more towards the front in order to emphasize the predatory nature of the new Beast. The 'R' on its flanks really does stand for its roar.
SHARPER REAR END
The slim and high tail section emphasizes the compact silhouette. Round shapes made way for straight lines, clarity and the promise of a radically thrilling ride. Which this bike actually delivers.
LED HEADLIGHT
Form and function are integrated beautifully in the 1290 SUPER DUKE R.
Take the headlight for example, a highlight in this bike's design.
The central aluminum heat sink holds the LEDs and keeps the unit cool while it's busy combining optimal illumination of the near field with maximum light output.
And the daytime running lights, which consist of 6 LEDs, ensure that the motorcycle is perceived better and is more differentiated by other traffic users, thus offering massive safety benefits.
ERGONOMICS
The 20 mm wider handlebar has been positioned 5 mm lower and 18,5 mm more to the front, so you're READY TO RACE all the time.
The ergonomics can also be adjusted in many ways to suit riders of any stature: » Handlebar: 22 mm adjustment range with four positions » Brake and gear shift lever: three positions for the gear shift & brake lever » Adjustable hand levers
ENGINE
Fast just became faster.
This engine, in its latest incarnation, pumps out an arm wrenching 177 hp while its torque figures reach for the sky between 6,750 rpm (140 Nm) and 7,000 rpm (141 Nm).
So it's stronger than ever, but we made it run smoother than ever as well thanks to overhauled resonator chambers.
All in all, weighing in at around 62 kg, the extremely slim 4-valve unit is one of the lightest big twins in the world.