Objavljeno: 10.04.2021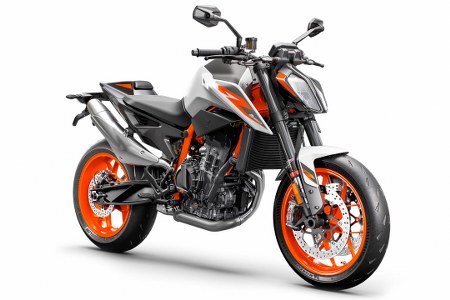 Still agile, but with more punch, the KTM 890 DUKE R takes all the things we love about the KTM 790 DUKE and turns it up to 11. This is a no-compromise mid-weight naked bike, equally at home on mountain roads as it is on the race track, delivering more power, more torque and more dukeness than any parallel twin that has come before.
Developed from the same parallel twin that powers the KTM 790 DUKE, the KTM 890 DUKE R engine has been worked into a fire-breathing, high-performance midweight titan. With its increased bore and stroke, higher compression and higher max. RPM limit, the KTM 890 DUKE R churns out an impressive 121 HP and 99 Nm.
The KTM 890 DUKE R has a simple philosophy when it comes the chassis – be lighter with more stability and be able to push the lean angle without reducing agility. Thanks in part to less unsprung weight and sportier ergonomics, the KTM 890 DUKE R has achieved just that, saving approximately 3.5 kg when compared to the KTM 790 DUKE.
The KTM 890 DUKE R is reined in and controlled by an advanced electronics package. From a full-color TFT display showcasing everything you need at a simple glace, to a plethora of Ride Modes and safety enhancements, manhandling the KTM 890 DUKE R is as easy as slicing a piece of cake.
ENGINE
DISPLACEMENT
890 cm³
POWER IN KW
89 kW
TORQUE
99 Nm
DESIGN
2-cylinder, 4-stroke, parallel twin
BORE
90.7 mm
STROKE
68.8 mm
STARTER
Electric starter
LUBRICATION
Forced oil lubrication with 2 oil pumps
TRANSMISSION
6-speed
COOLING
Liquid cooled with water/oil heat exchanger
CLUTCH
PASC™ antihopping clutch, mechanically operated
EMS
Bosch EMS with RBW
CO2 EMISSIONS
110 g/km
FUEL CONSUMPTION
4.74 l/100 km