Objavljeno: 19.06.2014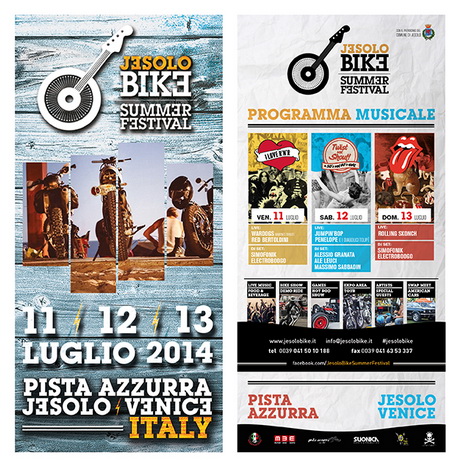 Jesolo je grad koji se smjestio sjeverno od Venecije a svoje ime je dobio po laguni koja se proteže na dvadeset i dva četvorna kilometra te izlazi na Jadransko more.
Venecija je blizu Zagreba pa svim zainteresiranim motoristima donosimo program koji će se održati u periodu jedanaesti do trinaesti srpnja na lokaciji Pista Azzurra.
From Friday 11st to Sunday 13rd July. The Jesolo "Pista Azzurra" will be filled with engine and live music!
Custom, Off-Road and Racing motorcycles will mingle with the American cars, the vintage world and the rock rock n'roll music.
The motorcycle brands will give the visitor the opportunity to test and drive the new motorcycles.
International guests from the motorcycle world:
- Bobby Seeger Jr. of Indian Larry Motorcycle (USA)
- Danny Schneidr di Hardnine Choppers (Switzerland)
- Denver Dan di Speed Merchant (California, USA)
The stage of the Jesolo Bike Summer Festival will be full of surprises during the whole weekend: from cover bands to emerging artists of the rock scene, from the deejay sets Simofonik & Electrobogo to the great energy of Massimo Sabbadin ... culminating on Saturday evening with the famous format '50s and '60s: Twist and Shout.
- Car Show (American cars and hot road)
- Customizer Award
- custom bike show with many awards
- Swap Meet and vintage market
- Skate contest
- pinstripes, airbrush, graffiti Artists
and much more ...
Participants of the Jesolo Bike Summer Festival will also have the opportunity to have a discounted rate ticket to Aqualandia: No. 1 Water Theme Park in Italy.
Inside the park a lounge area, a dedicated parking space for motorbikes and a special welcome will be awaiting all visitors of the bike event event.
Partners of the event:
- FIC Italian Customizer Federation
- Motor Bike Expo
- Pista Azzurra
- Suonica
- Moon Cafe
- Bad Spirit