Objavljeno: 09.11.2023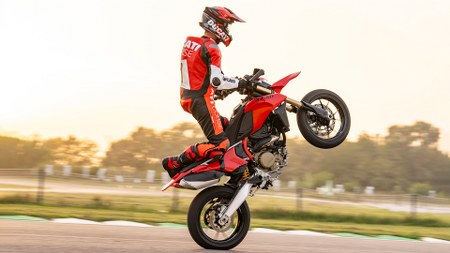 The new Hypermotard 698 Mono is the first single-cylinder road-going Supermotard by Ducati, born with just one aim – to transmit excitement, dominating the scene. Simple, lightweight, and agile, it is a true "fun-bike" with racing DNA.
The look of the new Hypermotard 698 Mono retraces the distinctive traits of a race-ready supermotard. Clean lines, compact forms, and aggressive style. The bold yet refined look is traced by the high seat, the simple, straight double-sided swingarm, and the slender tail section. The fender is high and expansive, while the rear fairings wrap around the exhaust, leaving room for the number plate holder.
The latest Ducati engine is already first in its class. Derived from the 1285 cc Superquadro engine of the 1299 Panigale, the Superquadro Mono flaunts Ducati racing DNA in just one cylinder. It inherits both its racing character and desmodromic system from the Superquadro, which allows it to rev higher than any other and fully express itself, for truly exciting performance.
The limiter is set at 10,250 rpm: no other single-cylinder engine can achieve this rotation speed. Power is the highest in its segment, with 77.5 hp at 9750 rpm and 63 Nm of torque at 8000 rpm.
Record-breaking performance is combined with benchmark service intervals, the oil change scheduled every 15,000 km and the valve clearance check every 30,000 km.
Available in depowered version for A2 license.