Objavljeno: 30.09.2014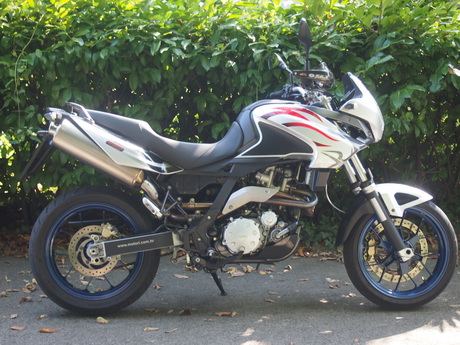 Among our redaction office motorcycles ther is one Aprilia Pegaso Strada 650 from the year 2007. with over 60.000 kilometers.
So we decided to make a review and hard test of this beautiful and very practical motorcycle.
First we must say that we didnt had any problems with this motorcycle, because the Pegaso was taken to the regular service maintenace every 5000 km and every 10.000 km depending on the service book recommendation.
Our Pegaso Strada is a stock equipped motorcycle with stock exhaust system and stock engine, there were no changes made in this two areas at all.
Changes that we made were in the looks, we added Akrapovič (Aprilia Racing) high quality carbon fiber handguards and Akrapovič carbon fiber engine guard.
The rest of the bike was protected with a carbon fiber 3D look foil, on the fuel tank cover, frame parts and the front and back forks.
We recommend it cause the 3D look foil protects the forks from the small rocks and sand and its resistant to the elements, it lasts four years and it sure looks nice.
The front fork was changed from the standard soft setting to more racing hard setting with reduced travel and more speed in the damping ratio and better oil.
This helped Pegaso to become more stabile through corners and on the braking.
We also added front brake inox steel braided line, which made the braking 10% more powerful and more precise feeling in the front brake.
The bike was not driven much trough the city it was mostly on the open big roads, over the mountains and on the big roads near seaside.
Pegaso was always garage kept and when we were touring on it, it was always under bike cover.
The parts that we changed on the Pegaso during these 60.000 km were only wearing parts: One clutch cable after 46.000 km, one battery after 50.000 km, four sets of tyres (Dunlop Roadsmart, 110/70-17 and 160/60-17), three sets of sprockets and cahins and three sets braking pads for the front brake.
The engine: Oil every 5000 km, only two oil changes were after 10.000 km, 10.000 to 20.000 and 20.000 to 30.000 km.
Valve clearance checks and adjusting were at 23.000 km, 46.000 km and 58.000km.
Pegaso can manage oil changes every 10.000 km but we dont recomment it cause we noticed that after 6000 km engine starts to vibrate more and the sound coming from it changes to rattling.
Any oil can manage only about 5000-6000 km because the molecular connections in it start to decay and the oil than cant do its purpose, to lubricate engine parts.
Service maintenance was performed by high experienced mechanics educated for Aprilia motorcycles in Italy (Boris Čmelar, currently working in Australia and Miroslav Oslaković from Croatia).
This is very important, because if the motorcycle is handled by inexperienced and uneducated mechanic, than you can have serious problems with any bike, so make sure that you take your bike to the authorised service provider.
Air filter that we used was stock from the start, and we have cleaned it every 10.000 km, new air filter was changed after 46.000 km.
Spark plug that we used is NGK Iridium CR7EIX, Iridium lasts very long and the combustion in the cylinder is so much better we have noticed that fuel comsumption has decreased up to 0.5 liter every 100 km.
NGK Iridium plugs can last up to 30.000 km but we recommend changes every 20.000 just to be sure.
We must stress that our Pegaso Strada 650 was ridden mostly rider only, so the chain, brakes and the tyres lasted longer, some Pegaso models 2007- 2009 had problems with a fuel pump, ours didnt, cause we stoped the engine running every time by turning off the key, NOT the kill switch, why??
Because some models of Pegaso Strada 650 had a bug in the computer, computer didnt turn on the fuel pump every time rider wanted to turn on the bike when the kill switch was off and the key was turned to the contact (on).
When the pump doesnt buzz it starts to work dry and that destroys the membrane.
So we also recommend to turn Pegaso on and off only by using the key, letting the kill switch to be ON all the time.
We really didnt had any problems with this bike and the bike was driven almost every day, about 12.000 to 15.000 km per year.
Aprilia has proven to have a high quality product, very comfortable and easy to ride motorcycle, that has low maintenance costs if you ride it as it meant to bee ridden, not in extreme ways but moderate/sporty behavior.
The pics of Aprilia Pegaso Strada 650 that we used for this article were taken September 30th 2014. and they represent the actual state and looks of our Pegaso Strada 650.
We are looking forward to make an addition of this test when we get to the 100.000 km.
Safe riding and lots of happy kilometers to all bikers!!!
Author: Marko Heder