Objavljeno: 23.04.2016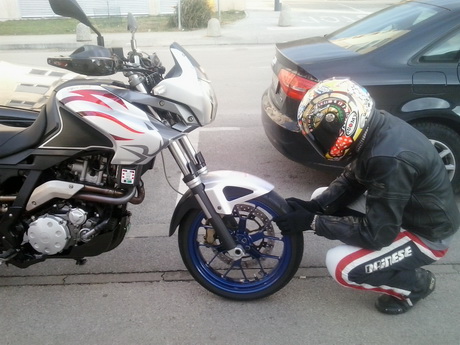 We decided to make an addition to Aprilia Pegaso Strada Hard Test since our last test in the September 2014., so we made some serious big service maintenance 70.000 km.
As always, the service maintenance was performed by highly experienced mechanic Miroslav Oslaković who has long history with Aprilia and other machines.
We wont repeat the basics about Pegaso Strada 650 so if you want to know more you can read the previous test from 2014.
What was done?
Our service maintenance included following: Valve clearance check and adjustment, camshaft valvetrain cylinder chain and chain strainer were replaced, including strainer gasket, main gaskets on both sides of engine covers and starter, check and tightening of every bolt, sprocket and axel.
Bearings in wheels, front and back where also replaced, oil and oil filter change, air filter and a spark plug NGK Iridium CR7EIX.
Was all this necessary?
Well, all but camshaft valvetrain cylinder chain and chain strainer. These parts were still in a very good shape and according to the state they were in and the words of our motorcycle doctor/master, chain and chain strainer could last at least another 30.000 km!
Bearings in the wheels and sprocket bearings were showing signs of wear and tear and it was absolutely necessary to replace them.
It was a good thing to replace the gaskets on both sides of the engine because they would eventually start to leak oil.
Oil and oil filter, air filter and a spark plug are part of the regular maintenance so we will just add that they were replaced on time according to service manual.
Overall, the engine and engine parts after 70.000 km were in the excellent condition, which proves that regular maintenance guarantees long life and minimum wear and tear, of course Aprilia Pegaso Strada 650 is a high quality product, but even high quality demands regular maintenance, otherwise the maintenance costs may significantly increase and service intervals may become monthly "Oh My God not again" thing.
Between the last test report and this report, our Pegaso got a new set of D.I.D chain and sprockets and a new tyres Mitas Sport Force+.
We have to say that we didn't expect that Mitas would fit so good on Pegaso Strada but it works much better than Dunlop Roadsmart!
New tyres offer more grip in the wet and dry conditions and they warm up more faster than Roadsmarts do.
To conclude we must stress for the 100th time that Aprilia Pegaso Strada 650 proved to be reliable motorcycle with versatile character and performance.
We are looking forward to make a third addition to this test when we get to the 100.000 km.
Safe riding and lots of happy kilometers to all riders!!
Author, Test Rider: Marko Heder