Objavljeno: 21.08.2016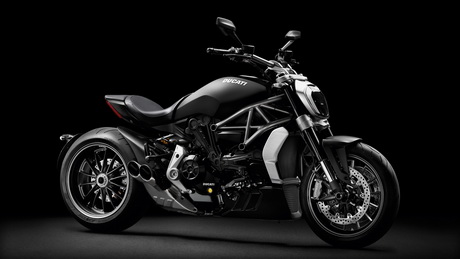 Dauntless, irreverent, unheard of, the new XDiavel breaches the world of cruisers with Ducati values, merging concepts that apparently stand worlds apart.
Travelling and relaxing to the comfort of forward controls combines with the performance and handling of a real Ducati.
The new Ducati Testastretta DVT 1262 engine reconciles the two different personalities of the XDiavel, ensuring superbike muscle and a flat torque curve from the low rev range upwards.
XDiavel represents the merger of two worlds: that of the cruiser for long, low speed relaxing journeys, and that of the Ducati, characterised by Italian style, technical sophistication and very high performance.
The X of XDiavel is just that: the crossover between apparently differing and distant worlds, united in a single bike, a synthesis where both are fully realised without any compromises.
The twin-cylinder Ducati Testastretta DVT 1262 is a completely new and Euro 4 approved engine which uses the Desmodromic Variable Timing system.
The increase in engine capacity compared to the Testastretta 1200, together with the use of the Desmodromic Variable Timing system, has enabled supply of incredibly full and at the same time fluid torque at low running speeds, while also guaranteeing sports performance when the throttle is fully opened.
In addition, the Ducati Testastretta DVT 1262 has a particularly detailed design which, thanks to the repositioning of the water pump inside the V of the cylinders, does away with the cooling system pipes on the left side.
Engine
Type
Ducati Testastretta DVT (Desmodromic Variable Timing), L-Twin, 4 Desmodromically actuated valves per cylinder, Dual spark, Liquid cooled
Displacement
1262 cc (77,0 cu in)
Bore x Stroke
106 x 71,5 [mm] (4,17 x 2,81 [in])
Compression ratio
13:1
▂Power
156 hp (114,7 kW) @ 9500 rpm
▂Torque
95,0 lb-ft (128,9 Nm) @ 5000 rpm

http://www.ducati.com