Objavljeno: 04.10.2016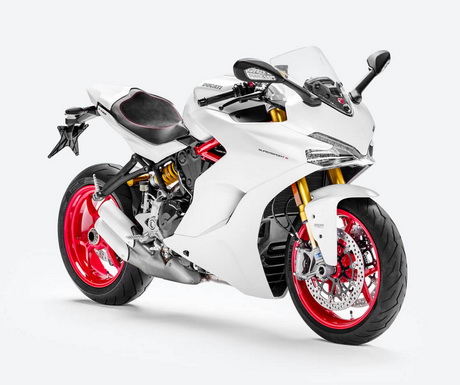 A new concept of sport.
The SuperSport perfectly balances sport and comfort to guarantee excitement and riding pleasure. With its 113 hp, 210 kg and the powerful torque of the Testastretta 11° engine, this is the road-going sports bike to suit everybody: beautiful, fun, versatile.
Always at its ease, whether on the motorway or in city traffic, the SuperSport allows anyone to indulge their sports instinct. Anywhere, at any time, in perfect Ducati style
Sports Elegance.
The lines of the SuperSport create dynamic shapes, visually compact and light.
The design, sporty and elegant, integrates elements typical of Ducati sports bikes such as the single-sided swingarm, sculpted tank and compact lateral silencer with two overlapping exits, which leaves the rear wheel, with its "Y" spoke design, fully visible.
Profile.
The innovative front fairing makes for an uninterrupted aerodynamic profile that draws the eye to the sculpted tank and the volume of the fairing, where the trellis frame is left on view.
The tail piece, separate from the rest of the fairing, adds sports elegance and ensures maximum aerodynamic efficiency.
Versatility.
Agile on urban roads, comfortable on the motorway and decisive when faced with out-of-town hairpin turns, the SuperSport combines comfort and versatility. Without ever compromising on its sporty nature.
Touring attitude.
The Plexiglas screen, adjustable in height up 50 mm, ensures the right aerodynamic protection at higher speeds.
This, together with the autonomy guaranteed by the 16 litre tank, amplifies the touring attitude of the SuperSport, making it an entertaining travel companion even on medium-range trips.
Three Riding Modes.
Advanced electronic equipment allows the rider to personalise the SuperSport and optimise control. The Sport, Touring and Urban Riding Modes act on the Ride-by-Wire, the Ducati Quick Shift up/down and the ABS and DTC parameters to modify the behaviour of the bike and adapt it to individual riding style.
Sports enjoyment.
The new SuperSport embodies Ducati values and introduces a new concept of sports riding, accessible to anyone who wants to experience the excitement of sports riding.
A pleasure made more intense by the comfortable riding position and advanced technological details such as the Ducati Quick Shift.
Always ready for excitement.
The Ducati Testastretta 11° 937 cc engine unleashes 113 hp at 9000 rpm and maximum torque of 9.86 kgm at 6500 rpm, of which 80% is already available at 3000 rpm.
Sophisticated electronic management ensures full-bodied supply and an immediate, easy to manage response.
Mission precision.
The SuperSport presents the latest evolution of the Ducati trellis frame, which uses the engine as a supporting element and contributes to keeping the kerb weight down to 210 kg.
The chassis geometry and fully adjustable suspension, with 48 mm Ohlins fork (on S version) combined with the Sachs single-shock, make it a bike inclined to precision and control.
Advanced active safety.
The SuperSport presents a rich electronics package that increases the level of active safety.
The Ducati Safety Pack (DSP), which includes Bosch 9MP ABS and Ducati Traction Control, enhances the bike's performance and optimises control even on surfaces that offer less grip.