Objavljeno: 16.06.2018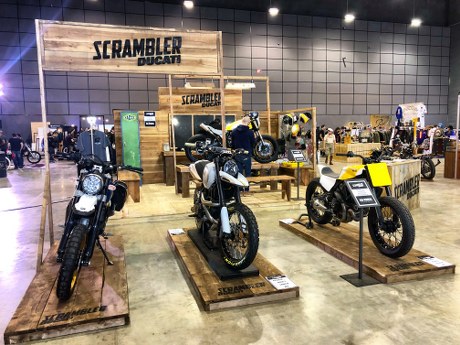 Borgo Panigale, Bologna, 15 June 2018 – Once again, Ducati Scrambler is heading for Wheels and Waves, the renowned French custom bike event taking place from 14 to 17 June in Biarritz, France.
This edition will see the Ducati Scrambler Land of Joy showcase concept and custom bikes from Italy, California and France. Moreover, the Flat Track School will be arriving directly from Days of Joy, the Ducati Scrambler riding school.
The Ducati Scrambler-based concept motorcycle created by the Californian designer Alex Earle at Ducati stems from an 800 cc Scrambler.
Inspired by generations of Southern California desert riders, the Desert Sled Concept was developed to synthesize adventure riding.
Combining cues from the scramblers and desert sleds of the 60's and 70's with the latest electronics and engineering Ducati has to offer.
The motorcycle was endowed with high capacity desert tank as well as an auxiliary reserve in the tail.
The motorcycle was ranked among the top three places in the Concorso d'Eleganza Villa d'Este 2017 in the "Concept Bike" category.
The displayed custom motorcycles also include Fuoriluogo , built by Unit Garage on the basis of an idea by journalist Roberto Ungaro.
The Italian customizer aimed to make the Desert Sled Scrambler even more off-road by mounting a stubbier tank and a Termignoni exhaust.
The custom kit also includes a quick-release pannier and a toolbox positioned under the swingarm.
The Land of Joy area also features two other custom-built Ducati Scramblers, directly from the Bad Winners workshop in Paris.
The two projects, created by renowned French customizer Walid, are based on a Ducati Scrambler 800 and 1100.
At Wheels & Waves, the Scrambler 1100 will be customized in 'real time' under the gaze of the public, who can even join in and help with the build.
The Scrambler 800, instead, will take part in the El Rollo Flat Track race.
Here, the Parisian customizer offers us a motorcycle with taut lines, giving the project a striking silhouette and that typical Flat Track look.
Putting the custom motorcycle through its paces on the El Rollo dirt track will be specialised rider Zoe David.
For this edition, Ducati Scrambler will also be bringing the Flat Track School to Wheels & Waves, directly from Days of Joy.
Here, enthusiasts will have the opportunity to get some Flat Track experience with two revered instructors: Frank Chatokhine and Zoe David.
Riding Ducati Scrambler Sixty2 bikes, specially customised for the occasion, participants will learn how to drift around oval dirt tracks safely.
Flat Track School sessions will be held on Saturday 16 June from 5 p.m. onwards, after the El Rollo prize-giving ceremony.
You can obtain information and sign up at the Ducati Scrambler booth in the Wheels & Waves Village.