Objavljeno: 27.06.2015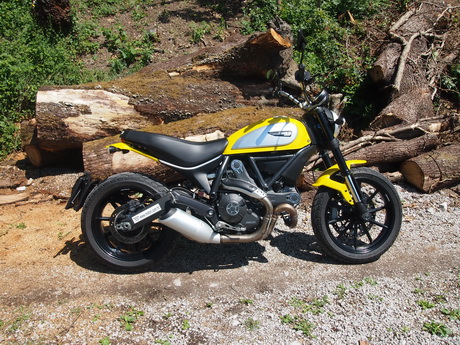 From 1962 until 1974 Ducati produced single cylinder motorcycles for the American market.
These first Scrambler had 2-valve, 4-stroke, air-cooled engines with engine capacity of 250 cc, 350 cc and 450 cc.
First Scramblers were street-legal dirt bikes, designed for dirt-track racing in the USA.
In the 2014 Ducati had decided to revive this model with a modern technology touch.
The new model, with an 803 cc engine rated at 75 hp, is offered in four configurations: Classic, Urban Enduro, Icon, and Full Throttle.
Each model can be accessorised with a list of cool parts and of course there is a wide range of accessories and complete apparel collection for the riders who want to relive the 60s and 70s style.
Our test model was Icon version of the Ducati Scrambler available in two colours: 62 Yellow and Ducati Red.
Icon comes with aluminium cast wheels, as well as the Full Throttle model. Urban Enduro and Classic models come with spoked wheels and different mudguards design.
The thing we liked the most in the Scramblers desing is the rich use od aluminium, aluminium tank covers, engine belt covers, aluminium stripe under seat and LCD dashboard with interchangeable aluminium cover.
Only front and back mudguards are made od plastic and they look really good, cool and retro with a touch of modern.
Tear drop steel fuel tank 13.4 litres completes the retro lines of the Ducati Scrambler.
The whole motorcycle is very narrow with high and wide handlebars sticking out.
We noticed that also the clutch, brake and throttle cables are sticking out of the handlebar wich is not aesthetically pleasing in modern days, but goes well with the retro philosophy made for real Scrambler fans.
Modern touch on the Scramler looks is visible in a front round headlight that has round LED ring, on the back end the LED tail light and aluminium "banana" shaped fork.
It is all well composed with the retro looks of the bike and completes the high quality finish.
Let us proceed with the tech specs and the riding review.
The engine is famous air cooled L-Twin, with two valves per cyclinder with total displacement of 803 cc well known from the previous Ducati models, Monster 796 and Hypermotard 796.
Power is 75 hp at 8250 rpm, torque 68 Nm at 5750 rpm, all made possible by electronic fuel injection with 50 mm throttle body.
Monster 796 and Hypermotard had the same engine but with 5-7 hp more and hydraulically operated clutch, Scrambler has cable operated clutch to reduce weight and make it easy to maintain according to 70s philosophy.
So with this underpowered engine and low weight Scrambler is surely in the category easy to maintain durable products.
Front wheel is made 10-spoke in light alloy, 3.00" x 18", rear wheel 10-spoke in light alloy, 5.50" x 17".
Tyres are made by Pirelli 110/80 ZR18 (front) and 180/55 ZR17 (rear) and they are very good on the asphalt, little less good in the off road riding, but up to the capabilities that Scrambler has on or off road.
Front brake, 330 mm disc, radial 4-piston calliper with ABS as standard equipment.
Rear brake, 245 mm disc, 1-piston floating calliper with ABS as standard equipment.
At first we were sceptical about front single disc braking power, but we saw right away that the brakes work very good, more than solid and we liked the ABS setting.
ABS has only one mode and it doesnt interviene while riding unless the rider pushes the brakes to the limit, so the braking during off road riding was not frustrating.
Dry weight is 170 kg. (375 lb) combined with 1.445 mm (56.9 in.) wheelbase and 790 mm (31.1 in.) - low seat 770 mm (30.3 in.) available as accessory, and you get real fun bike ready to take you everywhere you want to go.
Scrambler likes small, narrow dirt or sand roads, urban riding and it tolerates road trips on the open roads, but only if you want to cruise with speeds 100 to 120 km/h, because Scrambler has no wind protection and the bike is flat, so the rider sits on the bike, not in the bike, and 100% of the body is exposed to the wind pressure.
We tryed to test maximum speed but we only managed to take the Scrambler up to the 150 km/h during which the knees and upper body with arms spread wide open like a parachute position, wanted to be pulled off the bike like someone just attached the rider to the cable and pulled hard!
We are sure that Scrambler can go over 150 km/h easily but we do not recommend it.
Riding fast is possible but these are not the speeds that Scrambler was design for.
Scrambler loves curvy roads and has solid off road capabilities during which rider has lots of fun in the speed range 50-100 km/h.
Scrambler has moderately soft suspension, upside down Kayaba 41 mm front fork and Kayaba rear shock, pre-load adjustable, but the bike is very stabile cornering and the tyres ad to the sense of stability.
In the off road riding the suspension can sometimes be a little bit hard during the low speed riding so the faster you go the suspension becomes more soft and it soaks up the bumps just fine.
The engine has lots of torque and the working space is in between 4000 and 6000 rpm. But in the off road riding we have noticed that fueling map was sometimes in the low rev area (area thats used the most during off road riding) little bit twitchy, that is something that Ducati should work on to make a better sofware for the fueling.
Oil cooler is mounted high from the ground ond the left side of the motorcycle to prevent any damage that could come from the rocks or the dirt but it doesnt sticks out.
Engine ground clearance is good a we were suprised how well Scrambler performed in that area.
Seat and the seating position is also very comfortable, although the seat is very narrow the pillion rider will feel comfortable and can use the passenger grab rail under the seat.
Under the seat there is also small storage compartment with USB socket and tool kit.
Exhaust system with single stainless steel muffler, aluminium silencer cover, catalytic converter and 2 lambda probes greatly reduces the sound comnig from the engine.
When the bike starts it makes deep mumbling noise with a signature od L-Twin engine, but the higher the revs go the less the sound.
Termignoni or Akrapovič sport exhaust muffler would improve the sound scheme greatly and add to that 60s, 70s charms.
All the commands like, clutch, gear shifter, throttle, brakes are very soft and working smoothly.
LCD dashboard is very simple an easy to read, it contains minimum data like, odometer, shows speed and rpms, ABS status, oil warning light and fuel reserve indicator.
Fuel economy is very good. Fuel tank capacity is 13.4 litres (3.57 gallons) and the average consumption is about 4.8 litres per 100 km.
Reason for that is low weight, low rev engine with lots of torque.
The last thing we have to mention are the rear view mirrors that are very modulable, dont vibrate and view is excelente. Thumbs up!
All together Ducati Scrambler is a retro fun bike thats good for the beginners and more experienced riders.
Scrambler is very easy and very fast-agile motorcycle that puts a smile on riders face, weather you take it urban riding, off road or cruising on the open roads.
We didn manage to find any real flaws regarding this motorcycle, except the above mentioned fueling little bit twitchy, but thats something that Ducati will work on developing the better software.
EU price for the Ducati Scrambler Icon is around 9300 eur.
Is the price range little bit too much or not? Maybe, considernig that Ducati didnt have to develop anything new to build this beautiful motorcycle, Ducati simply used tried out componentes that worked in the past and made a legend come to life.
Author, Test Rider: Marko Heder.