Objavljeno: 12.03.2022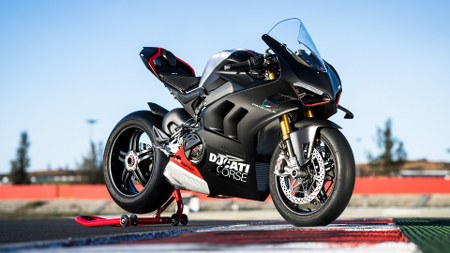 The Panigale V4 SP2 is the top-of-the-range model for Ducati super sports bikes: a special, exciting numbered-version for track riding, even more intuitive and less strenuous for non-professional riders.
The Panigale V4 SP2 is characterized by the special "Winter Test" livery, in which the matt black of the fairings is combined with the matt carbon finish of the rims and wings, contrasting with the bright red accents and the brilliance of the exposed brushed aluminium tank. 1,103 cc Desmosedici Stradale of MotoGP origin, carbon fibre rims, Brembo Stylema R® brake calipers, MCS radial master cylinder, dry clutch, 520 chain, billet footpegs and a specific kit for track use: the "SP" technical specifications push to the maximum the racing characteristics of the Panigale V4 and accompany all the improvements made on the 2022 version.
The heart of the Panigale V4 SP2 is the 1,103 cc Desmosedici Stradale of MotoGP origin: a V4 with counter-rotating crankshaft equipped with a lot of torque from low revs and capable of expressing the racing soul of the bike on the track.
For 2022, the Desmosedici Stradale has improved with the introduction of dedicated technical elements, which have made it possible to increase power and improve throttle response. The Euro 5 version engine delivers 215.5 hp at 13,000 rpm.
The chassis of the Panigale V4 SP2 includes an aluminium front frame that uses the Desmosedici Stradale as a stressed element.
The aluminium swingarm and the seat post in shell-cast aluminium are directly connected to the engine.
The pivot of the swingarm is positioned in such a way as to increase the anti-squat effect, which is the reduction of the sinking of the rear when exiting corners and when reopening the throttle, thus stabilizing the bike in acceleration.
The suspension system features an electronically controlled 125 mm travel Öhlins NPX25 / 30 pressurized fork at the front that uses a pressurized cartridge damping system derived from that of racing forks.