Objavljeno: 05.07.2016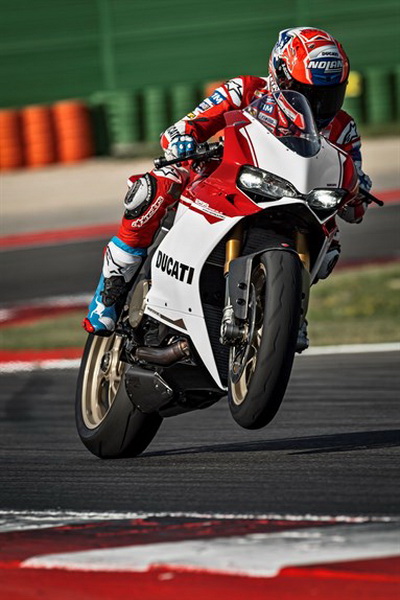 Since its founding in 1926, Ducati has been characterized by one thing above all else: Authentic Italian Performance.
To celebrate the 90 years in which the company has grown to be the world's premier manufacturer of sport motorcycles, the new 1299 Panigale S Anniversario sets a new performance benchmark, with the style and sophistication that sets Ducatis apart.
The 1299 Panigale S Anniversario is a strictly limited edition of 500 examples worldwide. Each bike features a special, machined billet aluminium top triple clamp, on which its name and number are laser-inscribed.
Ducati has decided to unveil the new 1299 Panigale S Anniversario as a global sneak peek at World Ducati Week 2016. Ridden by a special testimonial, Casey Stoner, the 1299 Panigale S Anniversario was unveiled in a sneak peek on the stage of the Santamonica stadium at Misano Adriatico with Claudio Domenicali in attendance.
The technical content that make this "Anniversario" an exclusive vehicle is brand new.
It begins with the colours inspired by those on the motorcycles used in MotoGP with the white, black and Ducati Red fairing combined with the gold colour of the wheel rims.
Distinctive elements of the 1299 Panigale S Anniversario are the upper steering yoke (numbered with a laser incision) and the adjustable steering bushings (+o- 5mm of trail) in billet aluminium alloy.
In addition, a lightweight lithium battery, along with the heel guards, the carbon fibre rear mudguard and the shock absorber cover, contribute to a weight reduction of 2.5 kg.
The 1299 Panigale S Anniversario features a brand new version of Ducati Traction Control (DTC) and Ducati Wheelie Control (DWC) called EVO, in addition to the already well-known Cornering ABS and the up/down Quick Shift gearbox (DQS).
The engine is the famous 1,285 cm³ 205 HP Superquadro, equipped with Engine Brake Control (EBC) to optimise vehicle stability going into corners, whereas the suspension is entrusted to the Ducati Electronic Suspension (DES) and Öhlins Smart EC, an event-based control system that uses step motors to manage the suspension setup during the riding phases.
To emphasise the sporty features of the 1299 Panigale S Anniversario, on purchase and along with the bike, a racing kit is provided made up of an Akrapovic Racing exhaust, an aluminium cover for the mirror mount holes and a cover for the hole left when the license plate bracket is removed to ride on the track. Lastly, a battery charger is also provided.
The 1299 Panigale S Anniversario will be available from mid-July 2016.