Objavljeno: 21.06.2017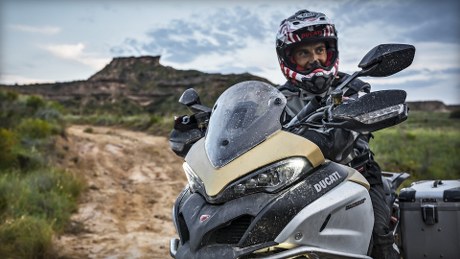 The new 1200 Enduro Pro, with its 30 litre fuel tank, 19" front wheel, long suspension travel, rugged bodywork and off-road tyres, allow you to explore the globe on two wheels. To go where no one has yet dared to go.
Versatility and comfortable riding position, combined with engine performance and high-tech features, all in a stylish and exclusive design, give you all the elements you need to start your exclusive off-road adventures.
The Testastretta DVT engine uses the Desmodromic valve actuation system that has made the Bologna-built bikes famous worldwide. This special system closes the intake and exhaust valves mechanically, with the same precision as they are opened.
The design of the Ducati Testastretta DVT engine shows how Desmodromic valve actuation provides a clear advantage over traditional valve springs; at low revs the system requires less force because there are no springs to be compressed. This makes it possible to keep the individual valve timing adjusters compact, which minimizes their weight and allows them to be smoothly integrated.
As a result, with a bore of 106 mm and stroke of 67.9 mm (giving a total displacement of 1198 cm³) the Ducati Testastretta DVT delivers 160 hp at 9500 rpm and 136 Nm of torque at 7500 rpm. Even at just 3500 rpm the available torque is already 100 Nm and remains near-constant, exceeding 110 Nm between 5,000 and 10,000 rpm.
The Multistrada 1200 Enduro Pro mounts a six-speed gearbox on which the first gear ratio is shorter than that on the other bikes in the Multistrada family in order to improve off-road performance and ensure better handling on more technical, low-speed tracts. The clutch on the Multistrada 1200 Enduro is of the oil-bath slipper type.
The new Multistrada 1200 Enduro is equipped with a state of the art full-TFT instrument panel. The display's configuration is variable and automatically adapts to variations in environmental light, also changing according to the selected Riding Mode or fully selectable by the rider.
There are four configurations, different in background style, information displayed, and display layout: the visualizations are different for rev-counter style, information displayed and display lay-out. "Sport" and "Touring" are the most complete for information displayed; in Sport the rpm bar graph has the same style as those of the Panigales; in "Urban" only the most essential riding information are displayed, "Enduro" view adds rpm bar graph.
The new Multistrada 1200 Enduro enhances the riding experience with customisation packages designed to highlight the bike's different souls. Touring, Enduro, Sport and Urban. Four kits, which can also be combined, to give the Multistrada the perfect personality for you.
In addition, a wide range of accessories (to purchase separately) for made-to-measure kit.