Objavljeno: 02.03.2018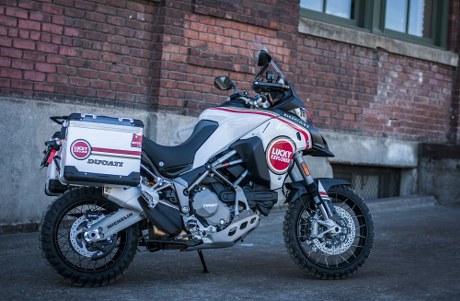 MotoCorsa Ducati dealership from Portland, USA have taken the Ducati Multistrada 1200 Enduro and linked it to its racing pedigree, creating a unique motorcycle in the process.
Multistrada 1200 Enduro was painted in one of the most iconic paint schemes ever to grace a racing motorcycle: the Lucky Strike cigarette company's red, white, black, and gold livery.
In the Ducati Museum in Borgo Panigale, there is a testament of Ducati's racing history in the Dakar Rally. The bike says "Cagiva" on the outside but actually it was an air-cooled Ducati engine that powered Edi Orioli and his Cagiva Elefant to two Dakar Rally wins (1990 & 1994).
Multistrada Enduro Lucky Strike remembers when the Dakar Rally actually traced a route from Paris to Dakar, and when the Ducati brand was thriving in the golden era of motorcycle racing.