Objavljeno: 15.09.2015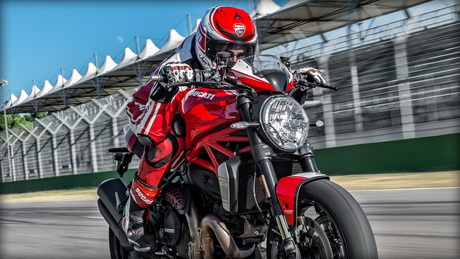 Yesterday (on September the 14th) Monster 1200 R was unveiled during the Volkswagen Group Night in Frankfurt.
So whats new in the design, engine and power departments??
Design.
The tailpiece is aerodynamic, pointing upwards, while the seat - one single piece for rider and passenger - is shorter and slimmer.
The licence plate holder, fixed in a high position, means the 200/55 tyre is clearly visible, mounted on a three-spoke forged wheel, inspired by that of the Panigale R.
The new aesthetics of the Monster 1200 R are completed by the screen and longitudinal graphics inspired by the classic Ducati Corse band.
The exclusiveness of this model is also reflected in the attention to detail, for example the metallic radiator covers with R graphic obtained through sanding.
The Monster 1200 R is available in Ducati red and new Thrilling black; both versions are enriched by a longitudinal sporty motif, representing the "R", which appears on the front mudguard, the mini-frame, tank and passenger seat upholstery.

The Engine.
The "R" engine version is tuned for power and torque and to be Euro 4 complaint.
Engineers increase air-intake, burn and exhaust efficiences.
The engine breathes further better thanks to new elliptical throttle bodies and air ducts Ø 56 mm equivalent, larger than the Ø 53 mm standard circular system.
The cylinder heads are new too with increased air inlet ducts to perfectly match the different in shape and dimension air ducts.
A lower cylinder-crankcase gasket rises the compression ratio to 13,0:1 respect the 12,5:1 of the standard 1200 cc engine.
The exhaust system is completely new with larger Ø 58 mm exhaust pipes and a new Euro 4 complaint silencer.
The Euro 4 preparation is completed with engine noise reductions as a dedicated clutch cover and new pistons with graphite surfacing.
Power and torque.
The "R" engine version delivers a wide spread of power and torque with a peak of 160 hp @ 9.250 rpm and 13,4 kgm @ 7.750 rpm of torque for great performance and fun.
At low, medium engine revs the "R" has a strong responsiveness with the 75% of maximum torque already available at 3500 rpms.
Exhaust system.
The "R" engine version is coupled via Æ 58 mm pipes to an impressive side-mounted 2-1-2 staggered shotgun exhaust that makes no secret of the performance of which the new Monster 1200 R is capable.
The bigger in dimension silencer to be Euro 4 compliant has a sport and "mechanical" design, consistent with the "nerve" forms of the tail.
The engine management system dedicates a lambda probe to each header, providing precise fuelingwhile an electronically controlled mid-section valve optimises exhaust pressure throughout the rev-range.
www.ducati.com