Objavljeno: 16.11.2016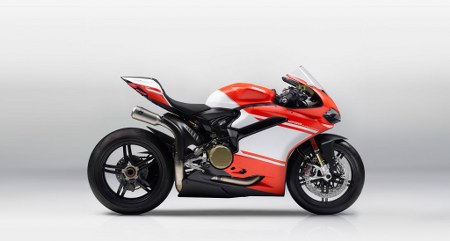 Ducati takes the world of Supersport road bikes to a completely new level by presenting the 1299 Superleggera, the first standard street bike with carbon fibre frame, swinging arm, subframe and wheels.
The 1299 Superleggera is the greatest expression of engineering, technology and performance ever put into mass production by a motorcycle manufacturer.
The quintessence of Ducati is exclusive in everything, even in the limited number of these motorcycles produced: only 500, for a lucky few Ducatistas.
The fairing, also made of carbon fibre, is just the tip of the iceberg of a unique project that only a brand like Ducati with racing in its DNA could accomplish.
In fact, under the fairing hides the most powerful version of the Superquadro.
With its 215 horsepower*, the Desmodromic EURO 4 engine on the 1299 Superleggera is the most powerful twin-cylinder ever produced, representing the best of Ducati technology.
The exclusivity of the 1299 Superleggera is underlined by the new electronic package that uses an inertial platform system with six axes (6D IMU - Inertial Measurement Unit) to manage the electronic controls that on this bike rise to a level of primacy.
This system has made it possible to further develop the Ducati Traction Control EVO (DTC EVO) presented on the 1299 Panigale S Anniversario thanks to the introduction of the Ducati Slide Control (DSC) which ensures even better performance when exiting corners.
The 1299 Superleggera is also the first Ducati Superbike to be equipped with Ducati Power Launch (DPL), as well as the Engine Brake Control (EBC) already present on previous versions, reaching the incredible dry weight of 156 kg.