Objavljeno: 01.09.2023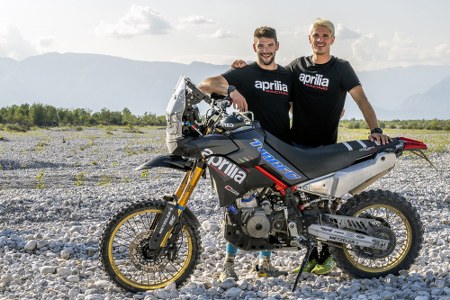 Noale (Venice), 30 August 2023 - The "Back to Africa" project, launched to return the Aprilia brand to the great African raids, is entering its most important stage: two Aprilia Tuareg developed to race in the desert will be on the starting grid of the Transanatolia Rally, scheduled to be held in Turkey from 2 through 9 September, entrusted to the two Aprilia Racing factory riders, Jacopo Cerutti and Francesco Montanari.
After the initial positive tests conducted in Sardinia and Friuli, the Turkish event - a rally as exciting as it is demanding that will cross Anatolia from the Black Sea all the way to the Aegean Sea for a total of 2500 km - is a true test bench for the competition Tuareg in view of future endeavours in the African desert.
The Aprilia Tuareg developed for rally raids is built on the technical base of the bike which - closely derived from the stock model - is a huge protagonist in the Italian Motorally Championship, where Jacopo Cerutti has already taken four category wins out of the six held so far, even coming close to an absolute victory in the first two rounds. A surprising début for Tuareg in the Italian series, with Cerutti currently leading the G-1000 class, reserved for multi-cylinder bikes over 600 cc.
Developed by Aprilia Racing in collaboration with GCorse of the Guareschi brothers, the Aprilia Tuareg designed for desert racing exploits the great off-road base features of the stock Tuareg.
In an initial stage of development, focus was on chassis performance, with a modular frame and geometries aimed at ensuring stability at high speeds and greater suspension travel. Subsequently, focus shifted to finding maximum engine reliability in prohibitive conditions through various changes, including the introduction of an oil radiator. Last, but not least, the adoption of a first supplementary fuel tank increased range, necessary for covering the long rally raid distances.
The competition version of the Aprilia Tuareg is fitted with Öhlins by Andreani suspension, a complete SC Project exhaust in titanium, and a specific Sprint Filter air filter. Collaboration has been priceless with Metzeler, who is focusing on the twin-cylinder adventure world with increasing interest and chose Aprilia to develop products for future use in rally raids.
Massimo Rivola - Aprilia Racing CEO
"The top priority of Aprilia Racing's participation in the Transanatolia Rally is not the result. We are headed to Turkey to accumulate as much experience as possible in a setting that is brand new for us and which represents an extremely demanding test bench in view of the end goal - our return to African raids. Finishing the race will be fundamental in order to gather valuable data for the future to prepare for even more difficult events. In any case, the path we have taken thus far makes us optimistic for the future. The Tuareg has been able to take home outstanding results from the beginning of this project and all this has been possible thanks to a stock product with an already excellent technical base and the efforts of everyone, from the Guareschi brothers to our riders."
Vittoriano Guareschi - Project Leader
"Development on the Tuareg continues non-stop and this time we'll do it in a competition. The Transanatolia is an extremely important event for various reasons. We'll be measuring up against many qualified adversaries in order to see how competitive the project is and it will also be essential to cover a lot of kilometres and gather data to see which areas need to be developed. Both the riders, Jacopo and Francesco, will have the latest evolution of the bike available to them, which has many new chassis and engine upgrades. Since this is a competition, measuring up against our adversaries is certainly important, but our priority remains developing the bike as quickly as possible."
Jacopo Cerutti
"The Transanatolia rally will be a great test bench because well be tackling conditions which come closer to the African races in some respects compared with what we have become accustomed to in the Italian Motorally. There will be many strong rivals on the starting grid, so we'll also have the chance to compare ourselves to them in order to better assess our own level of competitiveness. The goal is to successfully battle with the other twin-cylinders and - why not? - even try to stay up front in a few sections, although we mustn't forget that our project is still quite young. The tests we've done so far on the bike have gone well, but competing in turkey will allow us to conduct the most effective tests to improve."
Francesco Montanari
"The Transanatolia will be my first international rally and I'm going into it well aware that it will serve as great experience for me. Understanding the race rhythms will be important for me, with much longer legs than the ones I'm accustomed to. In recent months, I've tried to prepare physically as best as possible and I'm certain that having an expert teammate like Jacopo by my side will help me. I'm pumped up. In the tests, my sensations on the bike were outstanding. We're on the right path to get close to Africa and I can't wait to continue our work racing in Turkey."