Objavljeno: 24.03.2019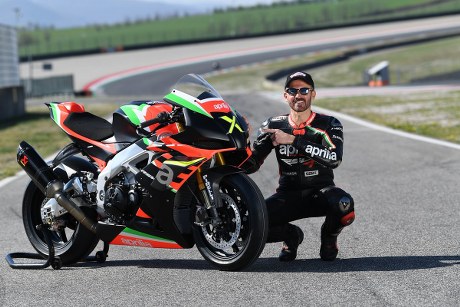 Aprilia celebrates ten years of #RSV4 introducing RSV4 X. Tailor-made by Aprilia Racing, as a limited series of just 10 units.
Ten years after the birth of the first model in 2009, a bike that already had one eye on the category's future, Aprilia introduces the RSV4 X, a very special commemorative version limited to just ten units of the new RSV4 1100 Factory: a jewel of Italian manufacturing and a collector's item, dedicated exclusively to the track.
That Aprilia Racing experience is also evident in the work carried out to lighten the motorbike, which results in an exceptional dry weight of 165 kg.
To achieve this, Aprilia Racing selected a series of precious, lightweight components, such as the carbon fairing, enriched with special dedicated graphics inspired by the livery of the Aprilia RS-GP competing in the 2019 MotoGP World Championship, as well as a tank that is the same shape as the original, but more lightweight.
Another competition-derived element is the racing push-button panel for adjustment of the main electronic controls making up the RSV4 X.
There are numerous billet aluminium details, such as the clutch lever, the front brake lever guard, the engine sump guards, the adjustable foot pegs and the upper steering plate, important details that make for a further weight saving. Marchesini forged magnesium wheels magnify the already spectacular handling of the RSV4 and mount Pirelli slick tyres.