Objavljeno: 09.09.2023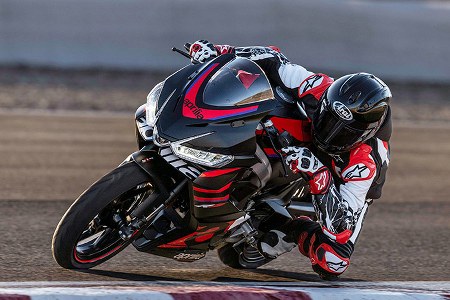 This is for the athletes, for the racing enthusiasts, for the new generation of bikers. This isn't just about choosing a bike, it is about discovering the RS tailored to you. Enter Aprilia RS 457.
Lightness, ease of riding and technological equipment are the strong points of the new Aprilia RS 457, capable of exalting every rider, both on the road and on the track. The grit of the new RS 457 is in fact that of the legendary RS range: the super sports bike model that made motorbike history.
The Aprila RS 457 is powered by an ultra-modern and technological liquid-cooled twin-cylinder engine with dual camshaft timing and four valves per cylinder, capable of 35 KW of power, the maximum for a bike that can be ridden with an A2 licence. The Aprilia RS 457's power-to-weight ratio is simply unbeatable, thanks to its 159 kg dry weight.
The new engine is matched by a rigorous chassis: the aluminium frame makes the Aprilia RS 457 unique among bikes in its segment and brings with it all the design expertise honed over decades of track wins. The engine block is used as a load-bearing element, a solution borrowed from the RS 660, which guarantees weight containment, dynamic qualities and absolute riding pleasure.